Guess Handbags - A Sexy Story. This 30 second fashion film was made for their 30th anniversary.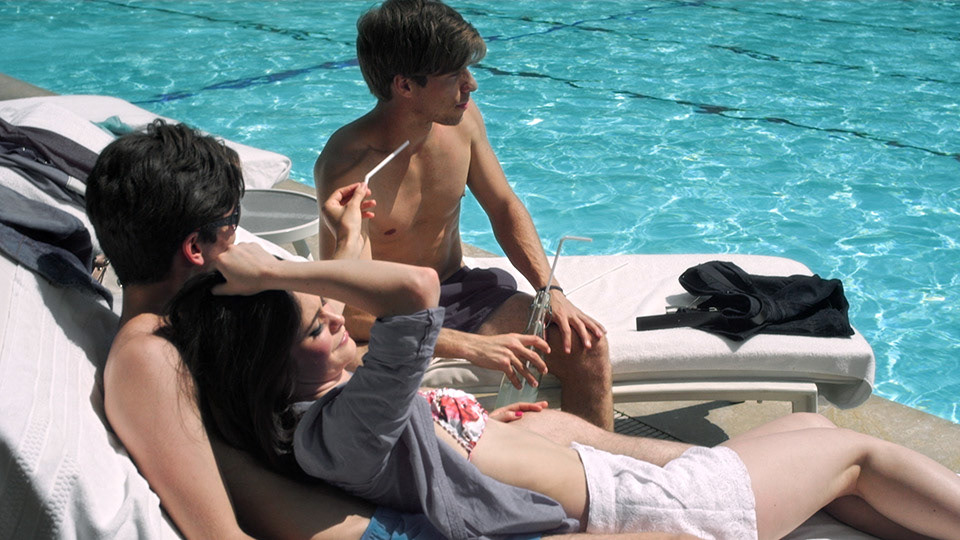 Cast: Brittney Refakes, Charan Andreas, Tim Neff, Khrys Kolomiyets, Sam Lee.
Director: John Charter.

Production Co: HOAX Films [hoaxfilms.com].

Executive Producers: Alexis Nelson, Rick Sander, Casey Moulton.

Producer: Randy Donaldson.

DP: Rainer Lipski [lipski.tv].

Production Designer: Jakub Durkoth.

Wardrobe Stylist: Sara Stuhl.

Hair and Makeup Design: Maxi.

1st AD: Joe Suarez.

Production Coordinators: Kristin Guinn, Saul Magallanes.

Hair and Makeup: Erika Melody Frank, Charles Brown.

Art Director: Jim Priest.

Art PA: Alexander Harris.

2nd Unit DP: Stewart Yost.

1st AC: David Condrey.

2nd AC: Matt Grace.

Gaffer: Tyler Condon. 
Key Grip: David Thomas Graves.

Grips (club scene): Austin Saya, Evan Cloyd, Ralph Blanchard, Dominic Parisi.

Editors: John Charter, Colin Woods, Zack Young.

Colorist: Nick Young.

Special Thanks: Jason Rimokh, Nicole Barefoot, Joshua Cole, Club Dancers.
Music available on iTunes: http://bit.ly/U9feOz